News & Updates
The Latest on Internet Pharmacies, Supplements, Designer Drugs,
and Other High-Risk Merchants
Edward Leonforte and Larry Burstein Under Arrest
Just this morning, the indictment against Edward LeonForte and Larry Burstein, the two principals of rogue Internet pharmacy network MedsIndia, was unsealed. MedsIndia sold controlled substances including Xanax without a prescription, and we worked to shut down their flagship websites like medsindia.com and medsindia.cc, as well as their various merchant accounts, which were engaged in various forms of transaction laundering.
Burstein, Harris Moure and More
I've had some indirect email contact with Burstein over the years, mostly related to our shutting down of his websites and his attempts to fight back and keep his domain names online. As one might suspect, shutting down domain names and merchant accounts slows down the flow of money, which is what cybercriminals care about most, so Burstein and presumably Leonforte were not pleased at the various junctions where their websites or bank accounts got taken away, even hiring top-notch legal talent like Dan Harris at Harris Moure to write threatening letters trying to get the rogue Internet pharmacies reinstated. (My feelings about an attorney actually trying to help their client resume the criminal activity, as opposed to advising them to stop the conduct, are perhaps a subject for a future blog.) But it's also worth mentioning that this is why LegitScript never backs down when we receive letters like Mr. Harris's: we know that his clients can't actually file a lawsuit because their criminal activity would be exposed to the world in the lawsuit's discovery process. 
What ICANN Knew, and When They Knew It...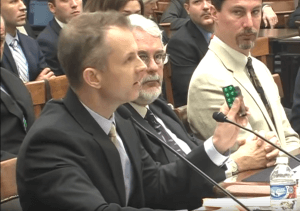 Burstein and Leonforte indirectly played a cameo role before the US House Judiciary Committee several months ago, when I testified about a test buy of illegal drugs we made from freeworldpharmacy.com (now disabled), one of the MedsIndia websites, and pointed out that the registrar (Rebel) and ICANN's compliance staff knew about the criminal conduct, having seen photos of the drugs we bought, but had refused to take action. (A photo of me testifying to the House Judiciary Committee and holding the drugs is to the left.) As I testified to Congress, ICANN has been a critically important partner to cybercriminals over the years, by closing complaint after complaint against registrars whose business model relies on signing up illegal online pharmacies, de facto giving the registrars a green light to continue the criminal collusion. 
Among the various websites we identified as part of the MedsIndia network over the years include freemarketpharmacy.net, freemarketpharmacy.org, medicinesindia.biz, medicinesindia.net, medsindia.us, confidencemedicine.com, CostaPharmacy.com, dzzzz.com, freemarketdrugstore.com, freemarketpharmacy.com, freeworldpharmacy.com, and pharmacyconsumergroup.com as well as numerous others. These are now all or mostly offline, but remained online in some cases for years, putting patients' health and safety at risk and feeding controlled substance addiction.