News & Updates
The Latest on Internet Pharmacies, Supplements, Designer Drugs,
and Other High-Risk Merchants
Yet another supposedly "Canadian" internet pharmacy certified by PharmacyChecker and the "Canadian" International Pharmacy Association (CIPA) has been criminally charged with conspiracy to sell unapproved, misbranded drugs and money laundering. According to the DOJ's press release, the drugs were not really from Canada.

This morning, the US Department of Justice announced criminal charges against Tony Lee, Billy Lee, Tarn Uppal, and a company called Quantum Solutions. The first three are Canadian residents, and Quantum is a corporation registered in Barbados. According to the court filings, among the websites operated by this allegedly criminal network are the following. As of this writing, they were either Pharmacy-Checker approved, CIPA-approved, or both.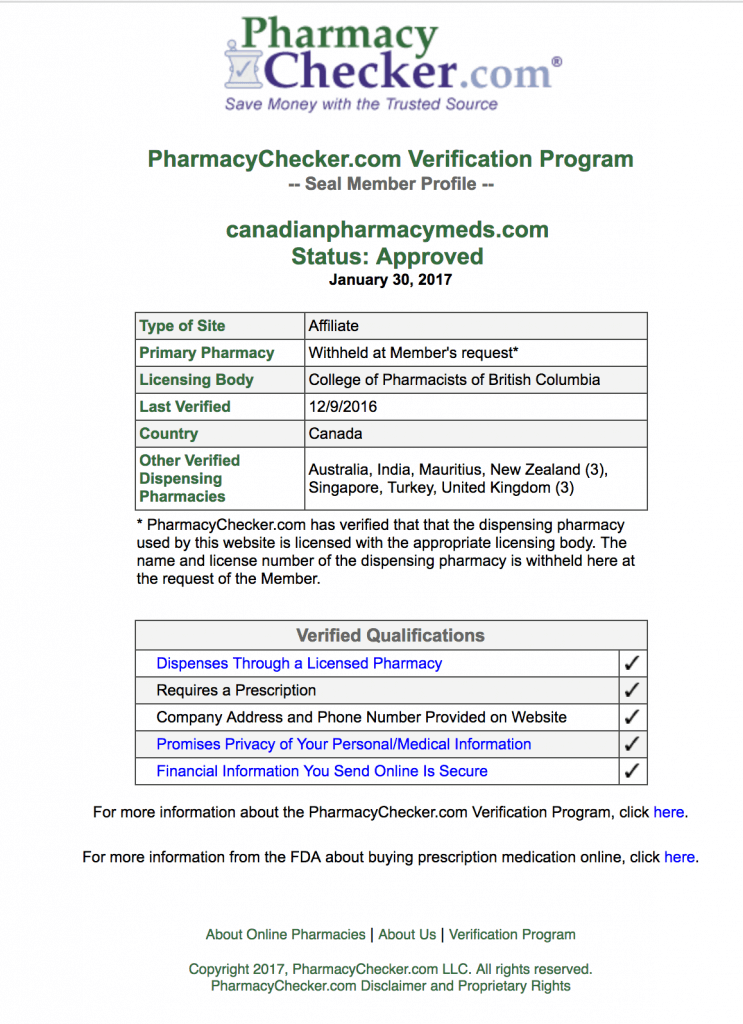 I went through the remaining websites named in the court documents, which all appeared to redirect to the main seven websites above. (Directmedglobal.com is offline right now, but was online a few days ago, as far as I could tell.)
So what's the big deal — the website names, such as "Canadian Pharmacy Meds" indicate that they are Canadian internet pharmacies, and they are approved by these two "credible" organizations, and aren't Tony Lee, Billy Lee, and Tarn Uppal all Canadian?
Here's how it worked, according to the US Department of Justice's press release.
Quantum, operated by the three Canadians, bought drugs made for foreign markets from suppliers in Turkey and other countries, and sold the drugs to pharmacists in the US.

The drugs were sent to a shipper in the UK, who repackaged them and put misleading labeling on them to make them appear as if they were for the personal use of the recipient.

The packages were sent into the US, where they were again repackaged.

The drugs were misbranded and sent to the US pharmacists, presumably for resale.

The money paid for these drugs traveled not only to Canada, but offshore to Barbados.
Yet all of these websites, in one way or another, hide behind a maple leaf, misleading US residents to believe that the drugs they are selling, in some way, are "Canadian." They aren't. And PharmacyChecker and CIPA, through their certification programs, continue to help these and other internet pharmacies perpetrate that fiction. (PharmacyChecker, I suppose in some weird way to its credit, does disclose that the drugs are from "Australia, India, Mauritius, New Zealand, Singapore, Turkey, United Kingdom" for canadadrugstop.com, but inexplicably says that the primary pharmacy is "Withheld at Member's Request." In what universe does a pharmacy have the right to hide where it's sending medicines from, and why does PharmacyChecker help them keep it a secret?)
Why do CIPA- and PharmacyChecker-approved websites market themselves as "Canadian" but ship medicines — sometimes unapproved, adulterated, or counterfeit ones — from elsewhere? Simple: it improves their profit margin to get lower-priced, substandard drugs from non-Canadian locations, but deceives US residents into believing that they are getting the same drugs a Canadian resident would.
At this point, it's worth a retrospective to highlight a few of the online pharmacies that PharmacyChecker (and in some cases below, CIPA) have approved.
canadadrugpharmacy.com

and the others that are the subject of today's criminal charges.

canadadrugs.com

, currently under

indictment

for selling counterfeit, non-Canadian cancer medicines.

apexonlinepharmacy.com

, selling prescription drugs

without a valid prescription

.
livewellrx.com, which sold an undercover "13 year old" muscle relaxants

without a valid prescription

 
pillsbargain.com, which

did not require a valid prescription

for tramadol;

tenpharmastores.com

, which was linking to websites offering Vicodin

without a prescription

;

shopeastwest.com

, promoted on PharmacyChecker's own website, and selling prescription drugs without

without requiring any prescription

at all from India. The principal was convicted of illegal online medicine sales.

top10pharma.com

, selling drugs

without a valid prescription

.

PharmNet.com

, also identified as

selling controlled substances

without requiring a prescription.
And, of course,

RxNorth.com

, a $95 million

fraud case

filed in 2012 involving counterfeit drugs. The principal was sentenced to prison.
Oh, and of course, we can't forget that one of PharmacyChecker's own directors got indicted for hiding counterfeit drugs supplied by CanadaDrugs in his garage. (The charges were dismissed, reportedly after the guy cut a deal with DOJ.)
Do these certification programs do their job of helping convey to US residents which online pharmacies operate legally and safely? While the criminal charges pile up, you be the judge.