News & Updates
The Latest on Internet Pharmacies, Supplements, Designer Drugs,
and Other High-Risk Merchants
Just as the weather is heating up, so is the pressure on rogue internet pharmacies as the internet community becomes increasingly unified in its efforts to stop them. In the past three months, LegitScript's enforcement efforts have led to the suspension of more than 6,000 domain names that were used as illegal online pharmacies and were shipping prescription drugs illegally worldwide. This disruption to the market could not have happened without collaborative registrars such as GoDaddy (US), AlpNames (Gilbartar), PDR (India), RealTime Register (Netherlands), and many others. These companies work closely with our abuse team and share similar values in regard to internet safety and public health.
Following the fall of Nanjing Imperiosus Technology Co., Ltd and other positive domain name registration developments, rogue internet pharmacies were (and still are) scrambling to find a registrar that chooses not to respond to applicable abuse notifications. This quarter, Nics Telekomünikasyon Tic Ltd. Şti. (Turkey) and CV. Jogjacamp (Indonesia) took action following our abuse notifications and disrupted illicit online pharmacy operators' continuous search for a new safe haven. This action alone resulted in the suspension of about 1,500 rogue internet pharmacies, which were all affiliated with the PharmEmpire criminal network. Many of PharmEmpire's rogue internet pharmacies use the template below: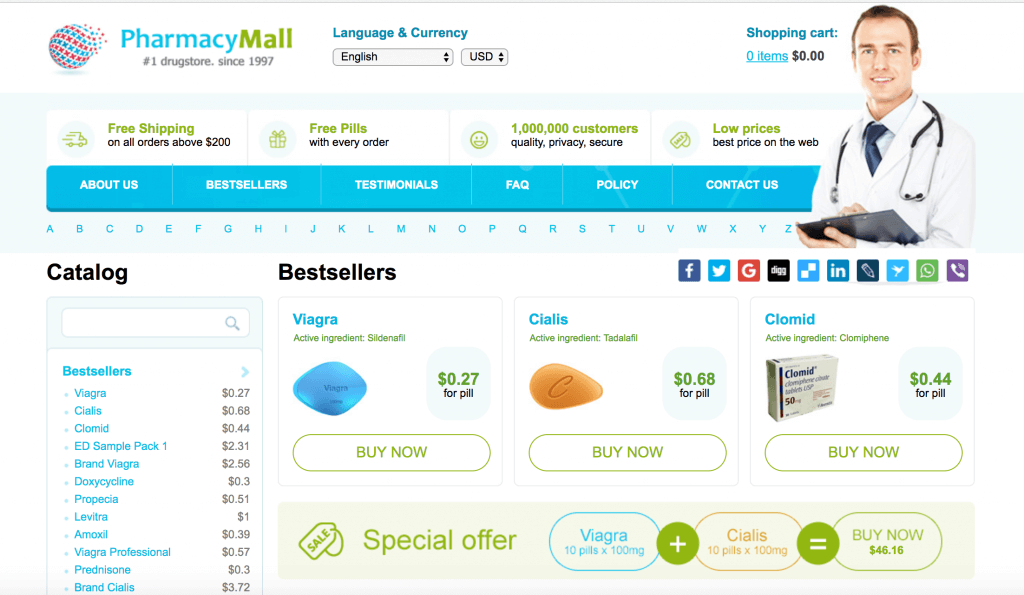 Another significant acknowledgment goes to REG.RU (Russian Federation), which recently joined efforts to fight illegal transactions of pharmaceuticals on its domain name portfolio. REG.RU responded to LegitScript's abuse notification promptly, and its investigation resulted in the suspension of about 400 rogue internet pharmacies subject to our complaint.
So, what does Q3 have in store? LegitScript analysts are working diligently to monitor and analyze domain name registration and transfer of rogue internet pharmacies as well as any associated merchants' websites. We invite you to stay tuned to the unfolding narrative of 2017 by signing up for our newsletter, and by continuing to report suspicious internet pharmacies.