News & Updates
The Latest on Internet Pharmacies, Supplements, Designer Drugs,
and Other High-Risk Merchants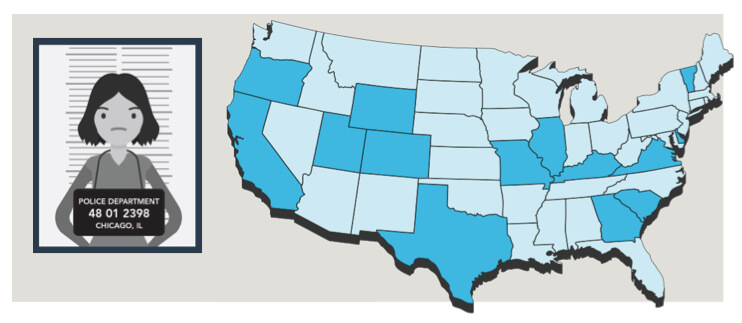 Over the past decade, dozens of for-profit websites have been created for the purpose of publishing arrest records, including booking photographs — more commonly known as "mugshots." Many of these websites make money by charging the arrestee a fee to remove the image.
Is this legal? The short answer is: it depends on the state. To date, 14 states, including California, Illinois, and Texas, have enacted legislation prohibiting merchants from charging arrestees a fee to remove their arrest photo from mugshot websites. As such, a payment provider that on-boards these types of online merchants may be subject to fines under Visa's and MasterCard's policies.
This poses an interesting jurisdictional question: are mugshot merchants subject to these state laws based on the merchant's location, the state from where the mugshots were obtained, or the arrestee's residence? It's an open question, but we treat it as if it's mostly the first two, but potentially all three. State laws appear to apply to mugshots gathered from within their respective states (even if obtained by a merchant in another state, or offshore), and presumably merchants in a particular state are subject to their own state laws. But keep in mind that Visa and MasterCard insist that any commercial activity be legal in the merchant's and cardholder's jurisdiction, so there's a colorable argument that even if the mugshots were collected by a merchant that isn't in a state with an anti-mugshots law, that an arrestee who now lives in a state with such a law might — depending on the law — have the right to complain to Visa and MasterCard.
What's more, some states limit the fee prohibition to certain categories of arrested individuals. For example, in Oregon a mugshot must be removed from the website within 30 days of the date of request, without charging a fee, if the arrest resulted in acquittal or no conviction, was reduced to a violation (i.e., an infraction where a fine was the only penalty), or the conviction was expunged or set aside. Similarly, Georgia requires the mugshot to be removed within 30 days of the date of request, without charging a fee, if the individual meets certain requirements (such as if the case was acquitted or dismissed.)
Legislation is pending in a number of states, including Florida and Ohio.
How can acquiring banks, payment providers, and other platforms keep track of whether a mugshots merchant is operating lawfully or not? LegitScript has created a Mugshots Map, which provides an overview of US states that currently have legislation in place prohibiting merchants from charging a fee to remove mugshots from websites.
Download your copy of the mugshots map infographic for a complete summary.