News & Updates
The Latest on Internet Pharmacies, Supplements, Designer Drugs,
and Other High-Risk Merchants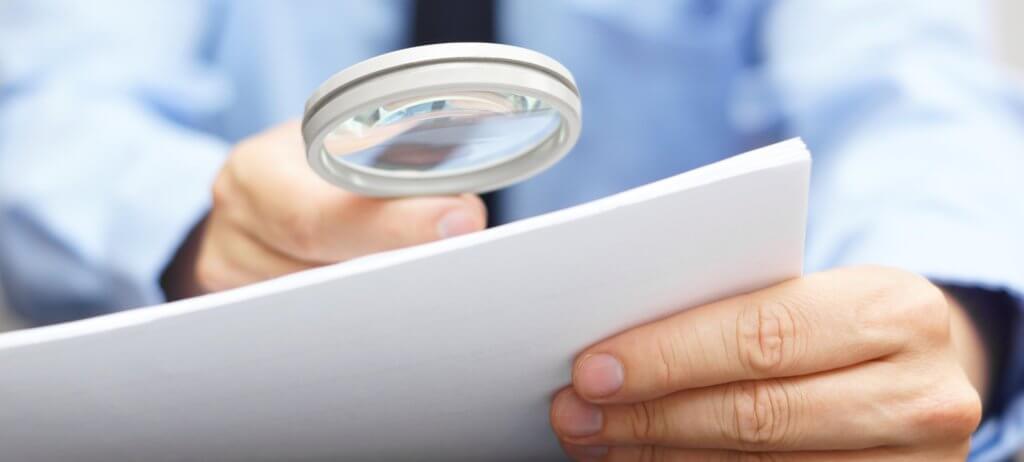 As part of LegitScript's mission to make the internet safer and more transparent, our analysts regularly submit notifications about illicit internet pharmacies to domain name registrars.
Operators of these problematic websites are welcome to appeal our designation of "rogue pharmacy." The first step is to provide a valid pharmacy license for each jurisdiction the website offers to ship from and to. This is important because a pharmacy must have the proper licenses to conduct business. For instance, if a pharmacy ships drugs into a particular jurisdiction, the dispensing pharmacy nearly always has to be licensed in that jurisdiction.
In November 2017, we received such an appeal from the registrant of buyhealthymeds24.com, who provided a "pharmacy license" for our review. Here is what they sent to us: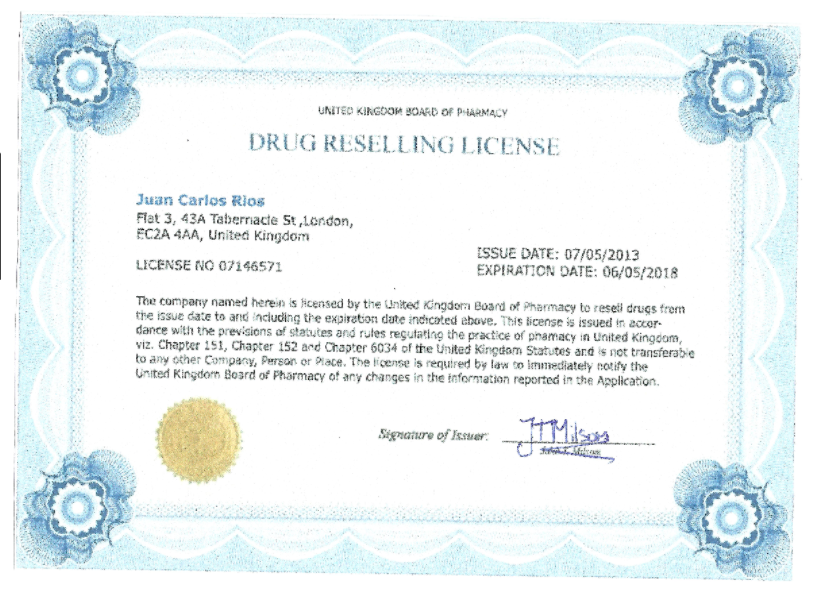 To the untrained eye, this "Drug Reselling License" from the United Kingdom may seem legitimate, although slightly difficult to read. However, legibility is only the beginning of the problems arising from this license.
Firstly, the website in question offered to ship medications worldwide, not just within the UK. A UK license alone does not cover global dispensing.
Secondly, this license is issued by the United Kingdom Board of Pharmacy. This is a major red flag since the "United Kingdom Board of Pharmacy" is not a real organization. Pharmacies in the UK are licensed by the Medicines and Healthcare Regulatory Authority (MHRA).
Next, let's take a closer look at the supposed legal basis for the issuance of the license:
"in accordance with the previsions [sic] of statutes and rules regulating the practice of phamacy [sic] in United Kingdom, viz. Chapter 151, Chapter 152, and Chapter 6034 of the United Kingdom Statutes."
The statutes (well, the first two, anyway) are real — except they belong to the state of Minnesota, not to the United Kingdom. What this appears to be is a rehashed version of a fake Minnesota pharmacy license used several years ago by the rogue pharmacy network EvaPharmacy.ru.
Rogue pharmacy operators like buyhealthymeds24.com are willing to brazenly falsify information in order to turn a quick profit. It does not require a leap of the imagination to wonder whether an organization like this would also sell counterfeit medicines.
buyhealthymeds24.com is just one small piece of a larger internet pharmacy network that has spent the last decade marketing prescription drugs online without requiring a valid prescription. Websites in this network include:
buyhealthypills.

com

super-pharmaonline.

com

trustpillsnorx.

com
These websites are able to operate only with the support provided by their technology and payments partners. LegitScript's monitoring of this network shows it has used a China-based network of transaction laundering websites to process its payments. These websites offered innocuous consumer goods for sale but were in fact intended for use in processing payments for unscrupulous merchants. Of course, the network also relies on internet service providers and registrars around the world to maintain its online presence.
But there's good news: buyhealthymeds24.com is no longer accessible, thanks to CSL Computer Service (Joker.com). This registrar took action in the interests of internet safety and public health and suspended this domain name. As new rogue pharmacies continue to surface, our partnerships with registrars and other service providers around the world will continue to keep consumers safe from these websites.