News & Updates
The Latest on Internet Pharmacies, Supplements, Designer Drugs,
and Other High-Risk Merchants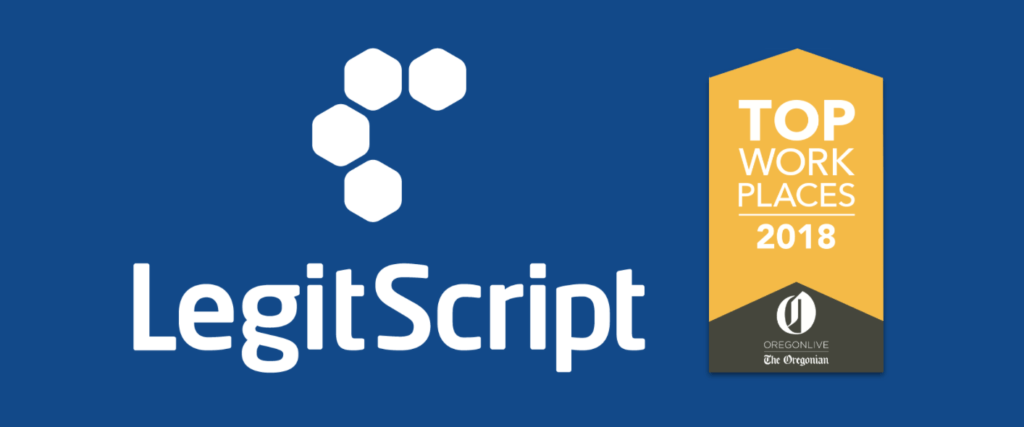 We're pleased to announce that LegitScript has been named a 2018 Top Workplace by The Oregonian. LegitScript previously achieved this honor in 2015 and 2016.
The award is determined by feedback collected from anonymous employee surveys, which were administered earlier in the year by the third-party company Energage. LegitScript employees who participated praised the company for its meaningful mission to make the internet and payment ecosystems safer and more transparent.
"I appreciate that we are all working together to make the world a safer place for people who may be vulnerable," wrote one employee in the anonymous survey. "As more and more people come online, there needs to be some forms of protection to prevent people from being taken advantage of. I also like that we are working to prevent fraud, money laundering, and illegal sales of controlled substances."
Results showed that virtually all LegitScript employees who responded to the survey agreed the company operates by strong values, which include transparency and open dialogue.
"I feel like LegitScript is always trying to evolve to do things in the best way that they can," wrote one employee. "It's nice to work for an organization that seems to listen to feedback and evolve processes until they are the best they can be."
"All views are welcome, and if there are differing views people will debate it or talk it out and come to a consensus," wrote another.
The vast majority of respondents agreed their managers care about their concerns and that LegitScript is a place where they can learn and grow in their careers.
"My manager has taken the time to deepen my program knowledge, consistently fielded my questions at length, and helped me become better at what I do," wrote one employee. "She has been critical to my success here and is a rarity and an asset to LegitScript."
In addition to cultivating careers, LegitScript managers also understand the value of work-life balance.
"We are not a '24-7, 365' place," wrote one employee. "People are respectful of others' time off work. There is not an expectation to be on call at all times. This promotes a healthy work environment where people love to come into the office and get work done. That is something that is very rare and hard to find in today's modern connected world."
In addition to the work and company culture, LegitScript employees value the workspace, benefits, and perks. LegitScript's Pearl District office is a bright, open space designed provide a collaborative environment that places equal value on productivity and employee well-being. Company benefits include a 401(k) with company match, immediate vesting, and excellent health benefits. Perks include transportation reimbursements, a complimentary in-house barista, and a dog-friendly environment.
"What's meaningful about this award is that it is based solely on staff input," said LegitScript CEO and President John Horton. "I'm happy to hear that LegitScript employees derive meaning from their work and believe in the direction of the company. In working to make the internet and payment ecosystems safer and more transparent, we also want to make the lives of our employees meaningful and rewarding."