News & Updates
The Latest on Internet Pharmacies, Supplements, Designer Drugs,
and Other High-Risk Merchants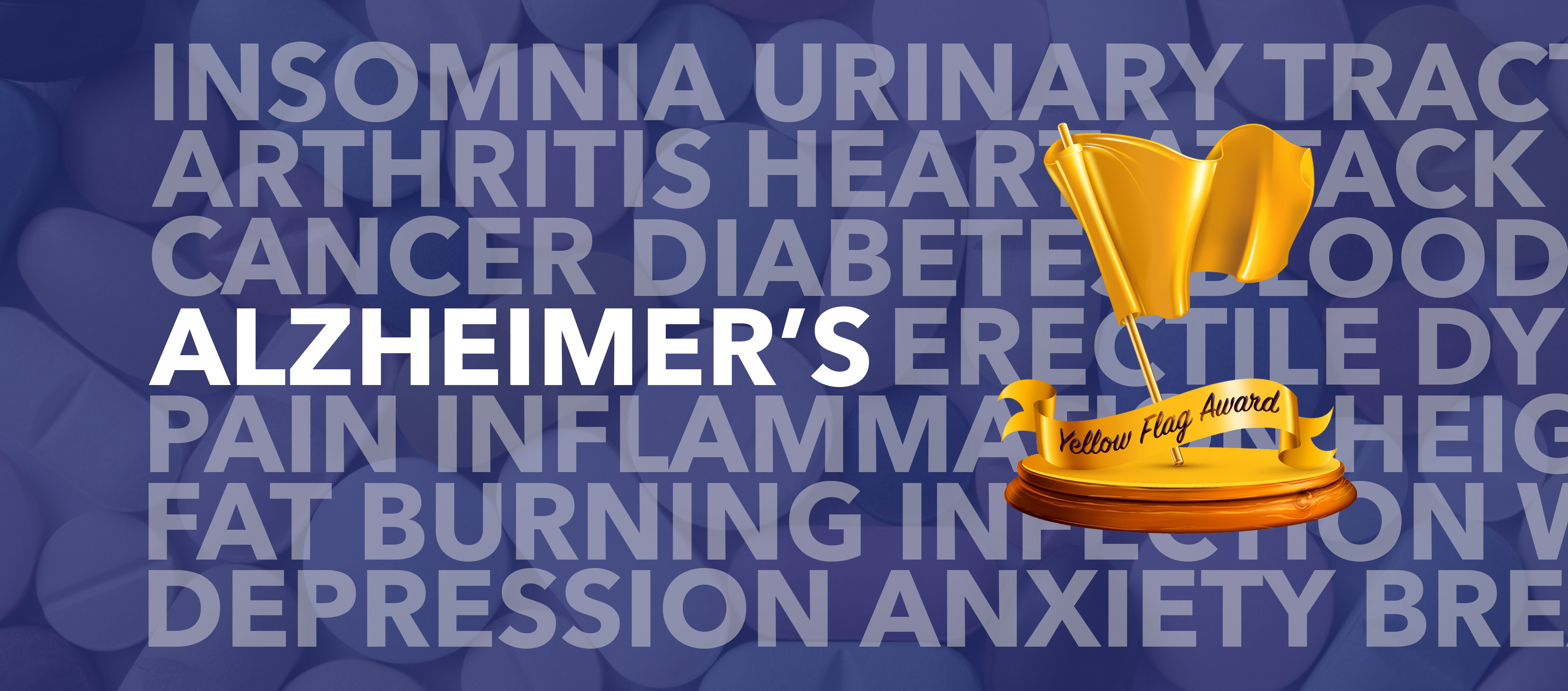 "Alzheimer's" and related disease terms are on track to be this year's top impermissible supplement marketing claim, which would earn it the LegitScript Yellow Flag Award for 2019. With four months still left in the year, will "Alzheimer's" beat last year's top impermissible claim — "inflammation" — or 2017's winner, "cancer"? Only time and shady marketing practices will tell.
What is the Yellow Flag Award? Each year, LegitScript collects data on impermissible marketing claims during its monitoring of the online dietary supplement market. Our expert analysts review thousands of product labels, websites, e-commerce platforms, social media, and more to collect data on how specific products are marketed to the public. In LegitScript lingo, "Red Flag" products typically contain impermissible ingredients, and "Yellow Flag" products typically contain problematic marketing claims. The Yellow Flag Award was created to highlight trends in problematic marketing and alert consumers to types of supplements to watch out for. 
Below are examples of products that were cited by the FDA in February 2019 for making problematic disease claims to treat or prevent Alzheimer's.
Problematic claims don't just appear on product labels and products descriptions. They often appear as blog posts or customer testimonials on a merchant's website. Merchants can be held responsible for third-party testimonials that appear on their websites, regardless of whether they solicited the content or not. Below are examples of testimonials for supplements that customers state treat high cholesterol and anxiety, respectively.
Although some merchants avoid making health claims on their websites, they may still post impermissible content on social media accounts. This can take the form of text, graphics, videos, or customer reviews. Any platform that is under the control of a merchant, including both business and personal social media accounts, can be subject to regulatory scrutiny for Yellow Flag claims. For example, BR Naturals, a supplement and food company, was sent a warning letter by the FDA that cited claims on its Twitter account that its products could treat inflammation and cancer. As of the publishing of this story, the posts were still live.
Why Claims Matter
According to the FDA's Federal Food, Drug, and Cosmetic Act, a dietary supplement may not make claims that it is effective in the diagnosis, cure, mitigation, treatment, or prevention of disease and/or unsubstantiated claims that it is intended to affect the structure or any function of the body. Simply put, a supplement is meant to supplement one's diet; these products can't make claims to treat a disease because that would qualify them as drugs, and therefore make them subject to pre-market approval by the FDA.
While the claims manufacturers and merchants make about their supplements may seem relatively harmless, they can have real and dangerous consequences for consumers. For example, supplements claiming to cure cancer prey on vulnerable populations and their families when they are most desperate for solutions. At best, those who are ill may receive false hope and end up spending money on an ineffectual product. At worst, those afflicted with a serious illness may forgo their normal medication and face serious complications.  
The Rankings
In compiling our data, LegitScript combines keywords commonly associated with serious diseases. For example, LegitScript includes claims about reducing, shrinking, or dissolving tumors under the category of cancer claims. For the Alzheimer's category, LegitScript included keywords such as "dementia" and references to improving memory or treating ailing memory.
As of late August 2019, "Alzheimer's" was the leading claim, followed by a cast of usual suspects: "pain," "inflammation," "cancer," "diabetes," "erectile dysfunction," "depression," "arthritis," and "heart attack." The chart below tracks claims through July.
This second graph below shows the top 10 combined claims for 2017, 2018, and 2019 (to date). "Alzheimer's" and related keywords have always been in the top 10 for the past few years of LegitScript's monitoring of supplement marketing claims, but its performance this year is a considerably higher percentage than in 2017 and 2018, most likely driven by FDA scrutiny. A first place finish in 2019 would be the first time "Alzheimer's" claims the top spot, but it's far from a done deal: "inflammation," which has been the most consistent performer year over year, still has a shot, and "pain" is running a close second so far this year. 
Although claims related to losing weight (e.g., "fat burning," "block fat," and "obesity") are typically near the top of the list, this category has yet to claim the top slot. It came in second in 2017 and third in 2018. This year it is trailing behind in eighth place. Below are the top 40 impermissible claims for 2019 so far, with some search terms combined into one general disease condition:
Top Claims 2019 (to date)
Alzheimer's + dementia
Pain
Anti-inflammatory + inflammation
Cancer + tumor
Erectile dysfunction + ejaculation + impotence + Viagra
Arthritis + joint pain
Diabetes
Fat + obesity
Depression
Yeast infection + urinary tract
Parkinson's
Crohn's
Acne
Blood pressure + hypertension + heart attack + high cholesterol
HIV + AIDS
Liver + cirrhosis + hepatitis
Hemorrhoids
Anxiety
Insomnia + sleep
Cold + flu
Migraine
Gout
ADHD
Multiple sclerosis
Macular degeneration + blindness + cataracts
Kidney disease + kidney stones
Osteoporosis
Allergies
Lupus
Candida
Hair loss + alopecia + balding
Fibromyalgia
Epilepsy
Neuropathy
Bipolar
Ulcer
Infertility
Herpes
Vitiligo
Stroke (tied with gallstones)
How FDA Affects the Rankings
Federal action helps to both identify problematic trends and drive awareness about particular claims. For example, in February 2019, the FDA and FTC sent warning letters to 17 companies for illegally selling products claiming to treat Alzheimer's disease. The products themselves vary greatly, though most, outside of their impermissible claims, were generally acceptable ingredients such as green tea, mushroom powder, and avocado oil. 
"Science and evidence are the cornerstone of the FDA's review process and are imperative to demonstrating medical benefit, especially when a product is marketed to treat serious and complex diseases like Alzheimer's," said then-FDA Commissioner Scott Gottlieb. "Any products making unproven drug claims could mislead consumers to believe that such therapies exist and keep them from accessing therapies that are known to help support the symptoms of the disease, or worse as some fraudulent treatments can cause serious or even fatal injuries. Simply put, health fraud scams prey on vulnerable populations, waste money and often delay proper medical care – and we will continue to take action to protect patients and caregivers from misleading, unproven products."
While the FDA's investigation may be a reflection of an increase in products claiming to treat Alzheimer's, the administration's action to shine a spotlight on these claims could help to reduce them for 2020 and beyond. In past years, the FDA has taken similar action against companies and dietary supplements making impermissible claims for the treatment of serious conditions such as cancer and opioid addiction. LegitScript has seen these categories drop significantly in successive years.
So far this year, the FDA has issued 246 warning letters, still far short of 2018's 419 and 2017's 512. Of the 246 warning letters, at least 30 were related to misbranded products, primarily in the context of impermissible marketing claims.
2019 and Beyond
What will the rest of 2019 hold? With the rise of products containing cannabidiol (CBD) intended for ingestion, LegitScript predicts an increase in marketing claims commonly associated with CBD, including chronic pain, anxiety, and depression. Although the FDA states it is illegal to market CBD as a dietary supplement or introduce it into the food supply, many merchants still market these products as supplements. As attitudes toward CBD change and more CBD products hit the market, consumers should watch out for these and other problematic claims. The question is whether the market will shift quickly enough for "pain" to topple "Alzheimer's" as the front runner for this year's LegitScript Yellow Flag Award. Stay tuned.
To learn more about these rankings, contact David Khalaf at [email protected]. 
About LegitScript
Since 2007, LegitScript has been making the internet and payment ecosystems safer and more transparent. LegitScript has the world's largest, most comprehensive database of dietary supplements, designer drugs, pharmaceuticals, and other healthcare products. Our multidimensional view across the entire compliance ecosystem provides unique insights from all industries and angles, allowing businesses and governments to stay at the forefront of emerging high-risk trends.