Have you seen a website or a seller on an e-commerce platform engaged in price gouging, scams, or other problematic behavior related to the coronavirus outbreak? Let us know by reporting the website.
As a payment service provider or e-commerce platform, it's important to stay ahead of high-risk trends so you can take action before it results in fines, damages your reputation, or threatens public safety.
LegitScript has been proactively monitoring the online space in response to the outbreak of the COVID-19 virus, and has identified an increasing trend in the marketing of coronavirus-related products and activities that present an elevated risk.
SPECIAL REPORT | The COVID-19 Crisis: An Outbreak of Cybercrime Related to the Pandemic
The illicit activity related to COVID-19 is further exacerbating the pandemic. Some consumers are being duped into purchasing equipment that is ineffective at preventing the disease; others are being tricked into believing they are immune or cured. This special report highlights the most critical illicit activity we are working to track, including high-risk domain name registrations, problematic diagnostics and supplies, bogus cures and treatments, rogue internet pharmacy opportunism, donation scams and nondelivery schemes, and more.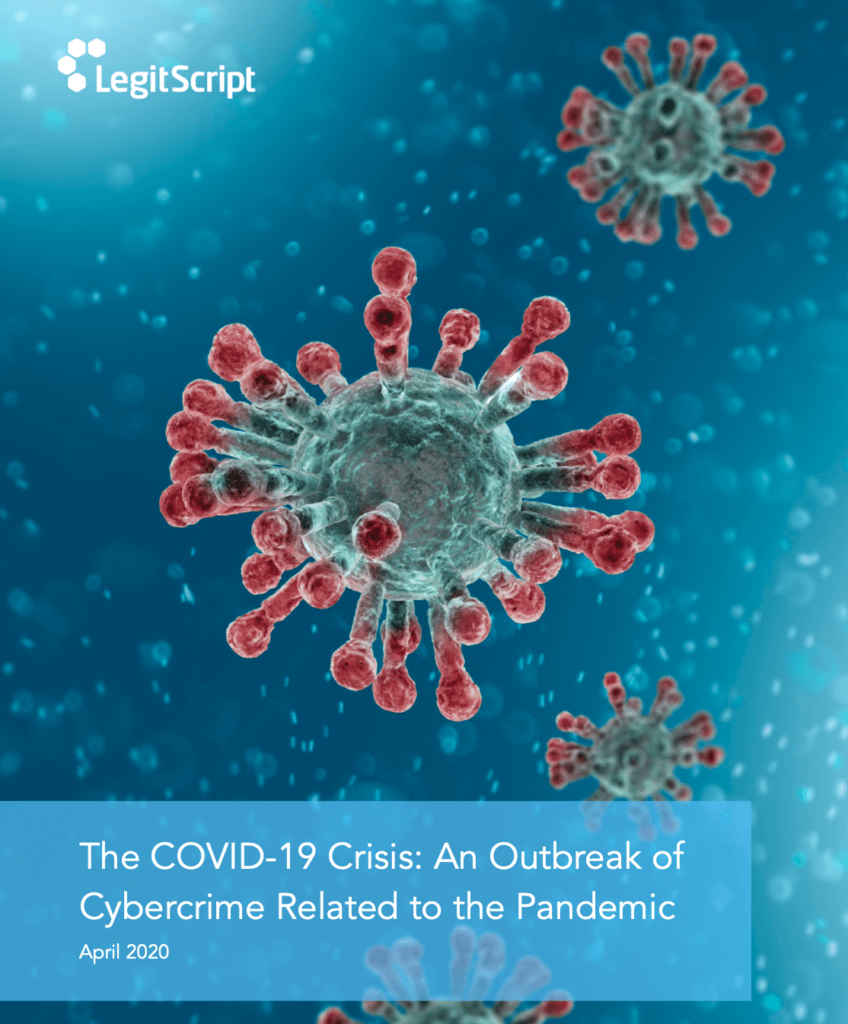 Donation Scams
In the midst of a natural disaster or other large crisis, scammers inevitably take advantage of the spike in public goodwill and the influx of genuine fundraising and charity websites. LegitScript provides tips about how to spot donation scams related to COVID-19.
Price Gouging
As the pandemic caused by the novel coronavirus spreads, opportunistic scammers have begun taking advantage of panicked consumers through price gouging on basic healthcare products, such as hand sanitizer, face masks, and toilet paper.
FTC and FDA Warning Letters
Warning letters from the FTC and FDA signal a forceful approach to containing coronavirus treatment claims. Products cited include teas, essential oils, tinctures, and colloidal silver, a product made of microscopic silver typically suspended in demineralized water.
Bogus Cures
With COVID-19 sweeping across the globe, the payments and e-commerce landscapes are especially vulnerable to scammers preying on consumers with fake cures, unapproved treatments, and other unconventional products and services to treat the new coronavirus.
Fake Test Kits
The severe shortage of diagnostic kits to test for COVID-19 is prompting fraudsters to flood the online market with fake, unapproved, and ineffective test kits. Any products directly marketed to consumers as self-testing kits for the virus should raise a red flag.
[Webinar] Cybercrime in the Age of a Pandemic: View a special webinar covering high-risk trends related to COVID-19, featuring a panel of LegitScript experts who have been monitoring the outbreak.