Merchant Monitoring Demo Center
Scroll to find demo videos, use cases, and top resources that can help you understand how to leverage LegitScript for risk mitigation and merchant monitoring.
Register to Gain Access to the LegitScript Merchant Monitoring Demo Center Videos
Learn more about monitoring for payment service providers, internet platforms, and global brands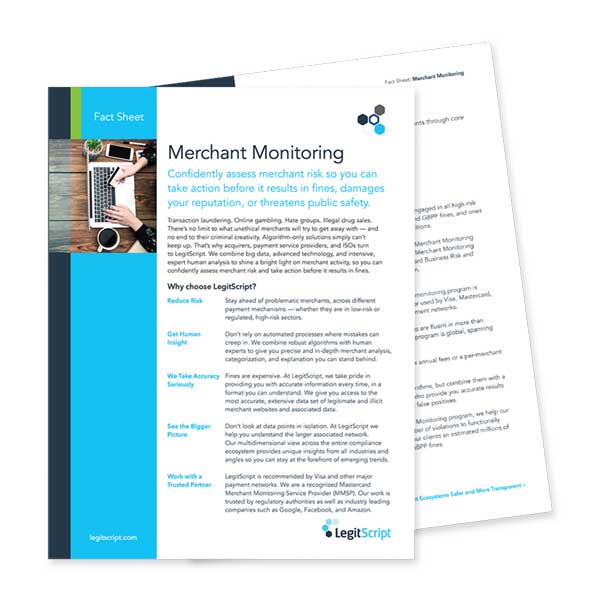 Learn about our core features and why you should choose LegitScript.
A comparison of in-house monitoring to third-party solutions and tips for choosing the right provider.
Why Did Tidal Commerce Payments Switch to LegitScript Merchant Monitoring?
Trusted by Industry Leaders Across the Globe
The LegitScript Experience
Here's what you can expect when you partner with LegitScript
Get Actionable Data, Faster
No more unclear, often inaccurate risk alerts. LegitScript combines advanced technology and human expertise to deliver real-time notifications with effectively zero false positives. You get clear, concise evidence explaining why a merchant presents risk.
Detect Transaction Laundering
Algorithm-only monitoring doesn't work against sophisticated fraudsters. LegitScript combines our proprietary data sets from across the internet with human investigation to investigate and detect transaction laundering that other vendors miss.
Expand Into New Markets With Confidence
LegitScript monitors merchants in attractive high-risk and high-growth industries such as healthcare, financial services, and more, so you can grow your business with confidence.