Search engines are the gateways to the internet, which is why website operators — both legitimate and illicit — put so much effort into advertising and search engine optimization. As online commerce continues to grow, so does illicit activity related to online advertising and sales. From online fraud and scams to problematic products and services, your company needs to be able to assess threats and quickly identify violative content so you can take action before it damages your reputation, draws regulatory scrutiny, or threatens public safety.
LegitScript, a partner of both Google and Bing, provides in-depth content for search engines, developed by our in-house experts. These resources are intended to provide you with a foundational background regarding key high-risk topics.
Interested in learning more? Sign up for the LegitNews Newsletter to receive all the latest content related to risk and compliance in the world of internet platforms and payment ecosystems.
Cybercrime Related to COVID-19
Crises breed opportunists, and in the midst of the COVID-19 outbreak, cybercrime related to the disease is extremely dynamic and growing. LegitScript has been aggressively monitoring search engine ads and results for everything from bogus cures and counterfeit test kits to donation scams and overpriced coronavirus-related products.
In our monitoring experience, search engines are especially vulnerable right now to opportunists preying on consumers with fake cures, unapproved treatments, and other unconventional products and services to prevent or treat the novel coronavirus. Frequently we see unscrupulous business owners employing SEO tactics to surface websites for their scammy products, which can be detrimental to public health if consumers falsely believe they are able to prevent or cure the disease. Unsupported claims have been the subject of numerous warning letters by the FDA and FTC since the outbreak took hold in the US. This also poses grave reputational risk to search engines as the media focuses on these merchants selling a new form of snake oil.
Want to learn more? Click the button to download our full report on the COVID-19 crisis.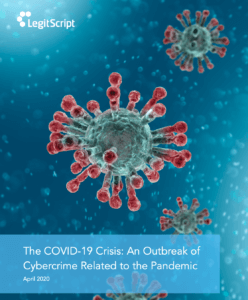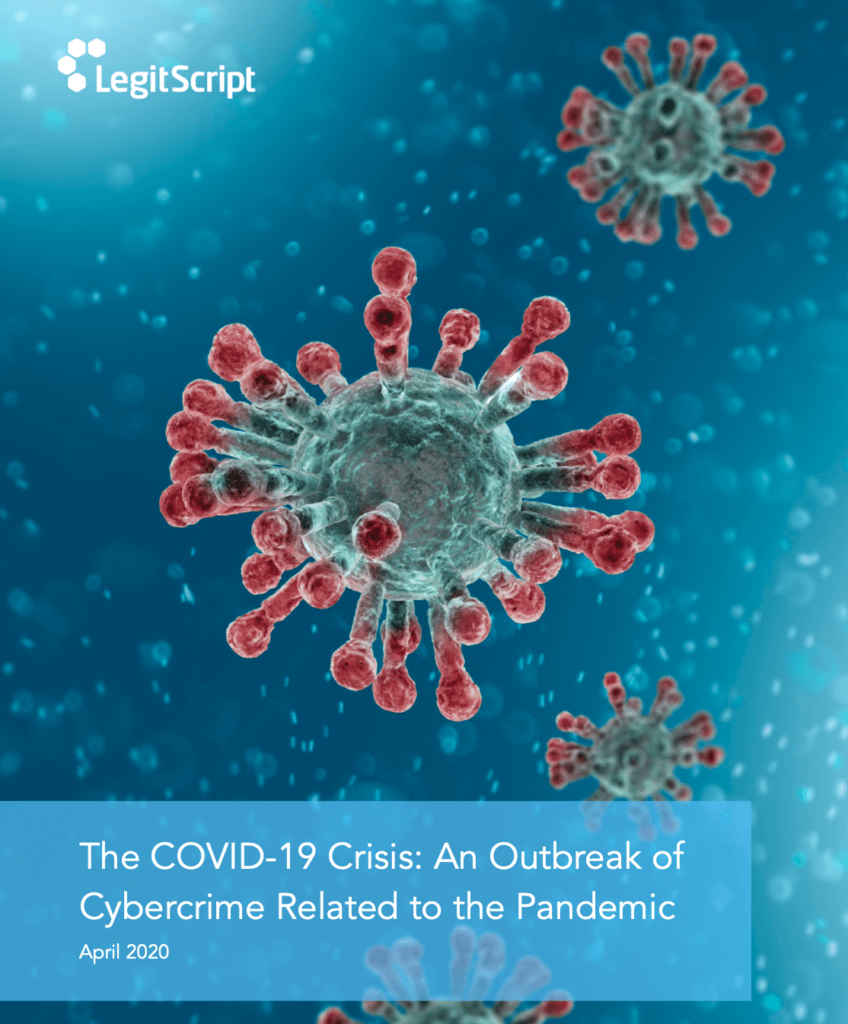 IP Infringement and Organized Crime
The total estimated value of counterfeit and pirated goods, including digital piracy, is projected to reach as much as $2.81 trillion by 2022. Because products being sold online often aren't obviously violative, search engines provide cybercriminals key opportunities to drive sales in both ads and search results. In fact, these criminals often steal images and language from a brand owner's website to make their websites look official. Consumers may only realize they've been tricked when they receive a substandard product in the mail.
Intellectual property infringement can put consumer safety at risk and facilitate more serious forms of wrongdoing, which is why it is a threat and liability to search engines. Although some may consider counterfeits and fakes to be a harmless crime, LegitScript has linked IP infringement to organized criminal networks engaged in other serious crimes such as money laundering, human trafficking, and labor exploitation.
Want to learn about the types of red flags you should watch out for? Click the button to download our guide on IP infringement and organized crime.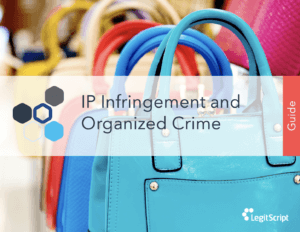 Dietary Supplements Essentials
Since Congress passed the Dietary Supplement Health and Education Act (DSHEA) in 1994, the relatively small market has mushroomed into a $40 billion industry comprising 80,000 products or more. And it's going to keep growing. As this industry becomes increasingly complex, it's especially important that search engines permitting supplement merchants to advertise are well educated on the types of products they are permitted to sell and the types of marketing they are allowed to use.
The marketing of dietary supplements is an important, but often complex, topic involving strict guidelines — particularly when it comes to what claims supplement merchants can and cannot make. For example, under what circumstances can someone say that their supplements can cure, mitigate, prevent, or treat a disease? Can someone market a supplement as "legal steroids" or "herbal viagra"? The FTC and FDA regularly crack down on supplement sellers making impermissible health claims, including content they post on social media. This kind of regulatory scrutiny can harm a search engine's reputation and threaten consumer safety.
Want to improve your understanding of supplements and the types of claims that can violate federal policies? Click the button to read our full Dietary Supplement FAQ.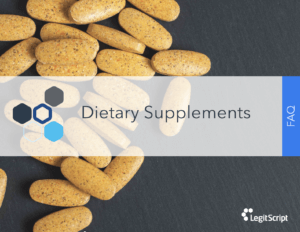 Top Problematic Ingredients to Watch Out For
With tens of thousands of dietary supplements on the market that may contain collectively hundreds of thousands of ingredients, it can be difficult for search engines to know whether ads on their platform are marketing problematic products and ingredients. Some ingredients go by many different names, including the scientific name, the brand name, and the slang term. There is no standard on how manufacturers must list ingredients on their labels, so it's important to know all of the name variations.
To make things even more difficult, the rules vary on the acceptability of ingredients from country to country. For example, yohimbine, a compound in the bark of the yohimbe tree in western Africa, is permissible to use in the United States, but is a prescription-only drug in countries such as Australia and Germany, and is impermissible for use in dietary supplements in others such as Japan and Spain. LegitScript has the world's largest, most comprehensive database of dietary supplements, designer drugs, pharmaceuticals, and other healthcare products. Our expert analysts keep abreast of trends and track problematic ingredients that can violate your advertising policies and even lead to fines.
Want to learn about some of the most common problematic ingredients we encounter? Click the button to download our guide on top problematic ingredients search engines should watch out for.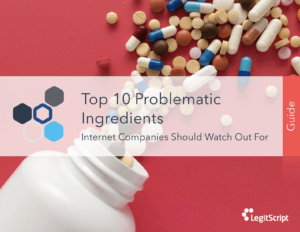 The State of the Online CBD Industry
Market research indicates that CBD sales, which are largely online, will reach $22 billion or more in the next few years. Despite the flood of CBD brands and sellers that have appeared online in recent years, the FDA still prohibits the sales of the largest CBD segments: dietary supplements and food products. This puts CBD in a complex gray zone in which some products are legal in some jurisdictions, but these rules vary from state to state and are constantly changing. For this reason, some search engines have been wary about allowing ads for CBD sales.
LegitScript conducted an in-depth look at what is really going on in the online CBD market from a consumer safety and compliance perspective. We reviewed hundreds of websites selling CBD to gauge their levels of compliance, had dozens of CBD products tested for potency and safety, and investigated high-risk financial behavior that allows the industry to accept credit cards or other payments even when large swaths of it are violating state and federal laws. For search engines, our report offers solutions that can help you take advantage of this burgeoning market by confidently accepting ads for CBD merchants who are operating in compliance with the law.
Want to find out more about our findings and how to accept CBD merchants on your platform? Click the button to read our full CBD report.