News & Updates
The Latest on Internet Pharmacies, Supplements, Designer Drugs,
and Other High-Risk Merchants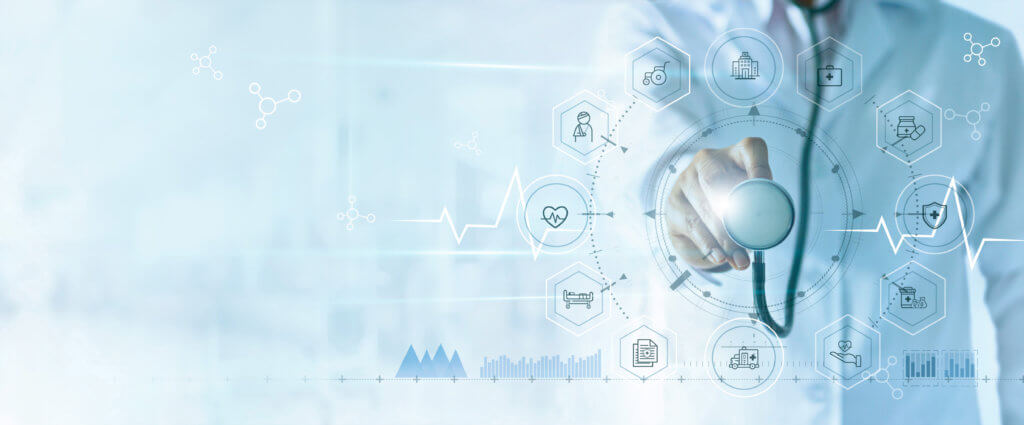 Although telemedicine was on a slow upward trend before the pandemic, its compulsory adoption by millions of people in the last 18 months has supercharged an industry that many had previously considered to be for niche audiences or for limited uses. Even as people return to in-person activities, telemedicine is proving its staying power in a number of important ways.
Telemedicine has passed the user tipping point.
Use of telemedicine has surged in the United States. In April 2020, telemedicine use was a whopping 78 times higher than it was just two month previous, according to recent research by McKinsey & Company. Even though telemedicine use has now leveled off as in-person visits have returned, it is still consistently seeing use that is 38 times higher than pre-pandemic numbers.
Furthermore, a majority of Americans have now tried out telehealth. A recent Sykes survey found that by March 2021, more than 61% of Americans had made a telehealth/telemedicine appointment, which is a massive increase from just 19.5% a year prior. Telemedicine use is now widespread across demographics.
People don't settle for telemedicine — they prefer it.
Telemedicine is no longer just an alternative to seeing the doctor when distance or circumstances preclude in-person visits. The Sykes survey referenced above found that nearly 88% of Americans want to continue using telehealth services for non-urgent consultations after COVID-19 has passed. Furthermore, nearly 80% say it is possible to receive quality care through a telehealth/telemedicine appointment, which is up from 56.4% pre-pandemic. Patients are discovering that they can receive the same quality of care through virtual visits for many types of appointments.
Telemedicine is solving real problems to healthcare access.
For some, telemedicine is not just a perk but a vital solution to receiving care that is otherwise difficult to obtain. A study from 2018 found that 30 percent of people reported they walked out of a medical appointment because of long waits. The average wait time for a doctor in the US was 18 minutes and 13 seconds at the time of the study, but times varied greatly across specialities and cities across the US. Telemedicine is improving access to care by eliminating travel times and reducing wait times.
Big tech is helping make telemedicine mainstream.
Nearly every big tech company — including Amazon, Apple, and Google — has dipped a toe (if not a whole foot) in the telehealth industry. Their innovations are helping make things like prescription fulfillment and personal health tracking an integrated part of the larger telehealth picture. When the technology and platforms people already own and use start integrating telemedicine offerings, it becomes much easier for the public to adopt them.
The growth of telemedicine isn't without its roadbumps. One concern is the varying patchwork of state laws across the country, some of which have recently led to setbacks for the industry.
Some laws that helped expand telehealth are expiring.
At the onset of the pandemic, many states issued emergency orders that mandated coverage of telehealth visits and waived the requirement for out-of-state medical licenses. In recent months, some of those orders have been expiring. Patients who had come to rely on telemedicine discovered that their insurance no longer covered visits, or that they lost access entirely. Of the 22 states that changed laws or policies during the pandemic to require more robust insurance coverage of telemedicine, it's unclear how many will revert back to previous policies. 
Telemedicine companies can become LegitScript-certified to help let companies and customers know they operate safely and legally.