News & Updates
The Latest on Internet Pharmacies, Supplements, Designer Drugs,
and Other High-Risk Merchants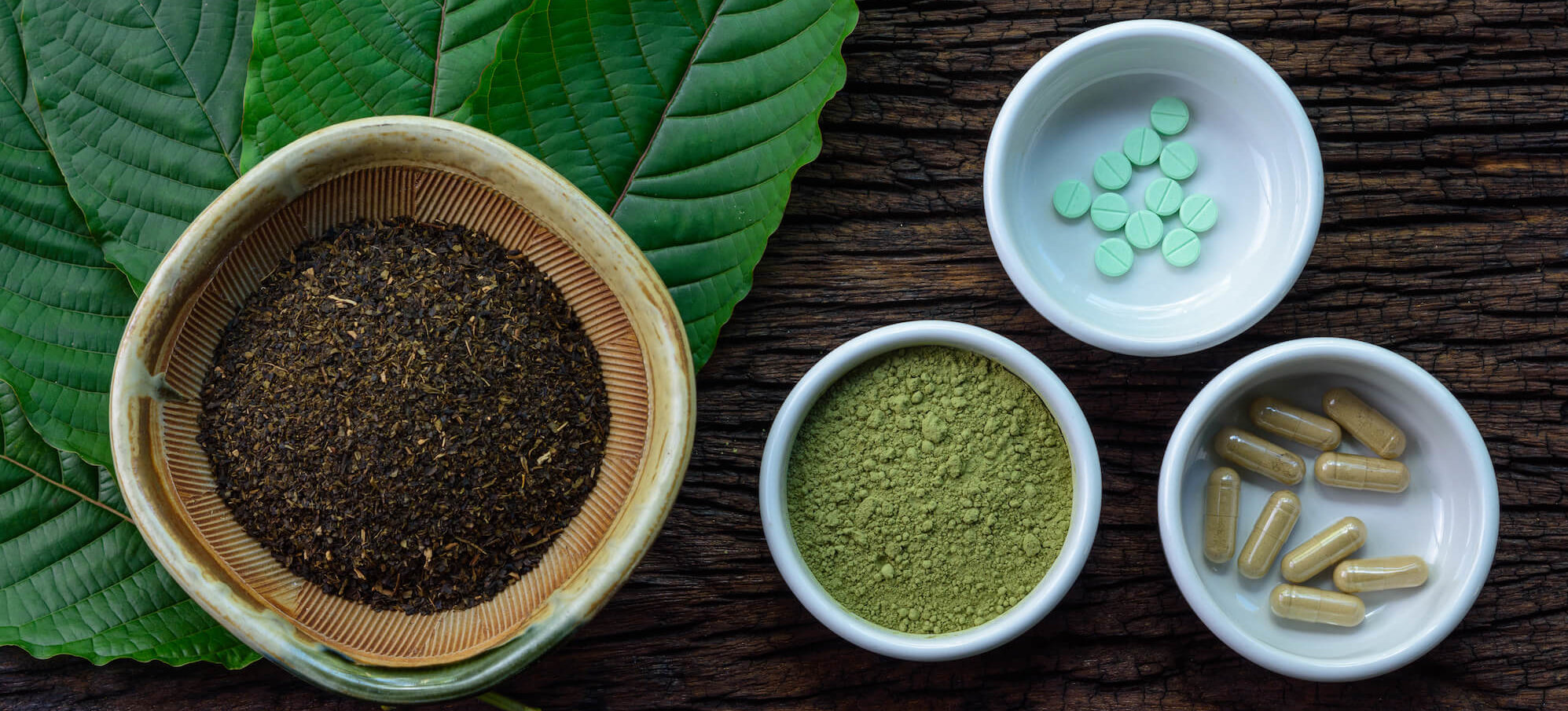 The US Food and Drug Administration recently issued warning letters to three businesses marketing and distributing kratom for making unproven claims about their products on their websites and social media, including the claim it can help in the treatment of opioid addiction and withdrawal. These claims make the products unapproved new drugs sold in violation of Federal Food, Drug, and Cosmetic Act (FDCA), and the warning letters highlight the persistence of kratom being sold and marketed on the internet. In this blog post, we look at what LegitScript already knew about these companies before the warning letters were issued, and how our services could have helped payment processors avoid potential card brand fines.
The three merchants include Revibe, Inc., of Kansas City, Missouri; Kratom Spot of Irvine, California; and Front Range Kratom of Aurora, Colorado. Because of our extensive internet monitoring, LegitScript has been aware of these businesses' websites, two of them as early as 2015. We classify these websites as "rogue psychoactive high," meaning their primary purpose is to sell psychoactive products, which are often illegal and typically violate card brand rules.
Although kratom has not yet been scheduled as a controlled substance at the federal level, it is a controlled substance in many other jurisdictions and is banned in several US states (e.g., Arkansas, Indiana, Tennessee, and Wisconsin). Kratom is listed as a Drug of Concern by the Drug Enforcement Administration and has been identified by the FDA as having deadly risks. Learn more about this substance by getting our free Kratom FAQ Guide.
For payment processors, the human dangers of kratom translate to financial risk. A public notice, such as a warning letter, is a sure-fire way to alert card brands to a violative merchant. Let's look at how these kratom merchants state that they process payment soon after the warning letters were issued:
Revibe, Inc.
The checkout page on Revibe's website states that it only accepts eCheck and cryptocurrency (Bitcoin). By not accepting credit cards, this business is less convenient for customers but allows the business to circumvent card brand rules. See the image below.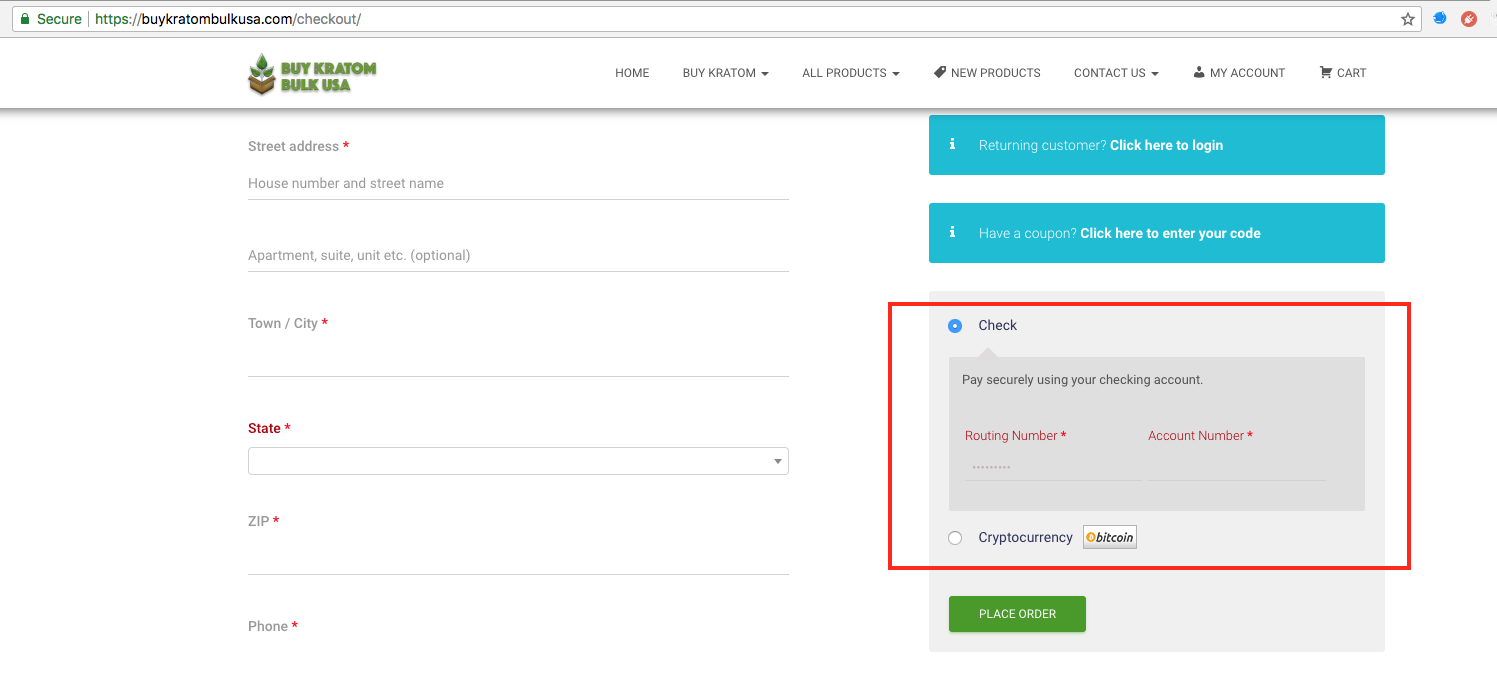 Because there is no payment processor or facilitator, no one would be at risk for card brand fines. However, the merchant itself is still liable for FDCA violations, as evidenced by the FDA warning letters.
Kratom Spot
The checkout page on the website for Kratom Spot states that it accepts both eCheck and major credit cards including Visa, Mastercard, and Discover. See the image below.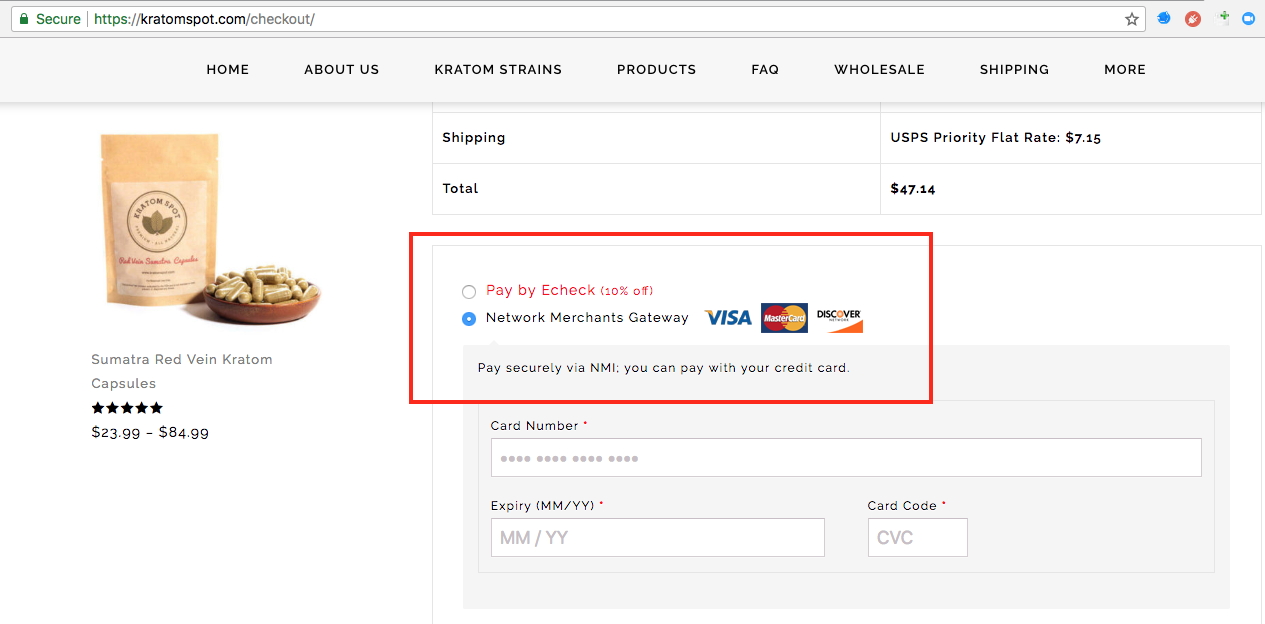 The checkout function lists the name Network Merchants Gateway and states that payment is processed through NMI, which appears to refer to Network Merchants (dba NMI), an e-commerce payment gateway solution based in Roseville, Illinois. If this is the case, NMI could be at high risk for card brand fines for onboarding and maintaining a violative merchant that has been publicly cited by the FDA. Card brand fines are in the tens of thousands of dollars per card.
Front Range Kratom
The website for Front Range Kratom states that it is temporarily unable to accept card-not-present (CNP) transactions, and that it will only accept in-store purchases. See the image below.

In this instance, it appears as if the merchant used to accept credit cards but had its merchant account shut down. This could be because the payment processor caught the violative merchant and revoked the account, or it could be that the merchant was discovered by one of the card brands it used to process payment. If the latter were the case, the payment processor may have only found out about the merchant at the time it was fined. Had these merchant accounts been part of LegitScript's monitoring portfolio, we would have alerted our client the moment we spotted the merchant so that the payment processor could take action before a fine was issued.
Simply terminating these merchant accounts may not protect these payment processors against risk. As more payment processors purge merchants offering kratom from their portfolio, LegitScript anticipates these merchants will increasingly turn to transaction laundering to maintain the ability to process credit cards. LegitScript's merchant monitoring team looks for transaction laundering associated with kratom sales. Transaction laundering is often difficult to detect, particularly when merchants obfuscate their identity and take advantage of anonymous domain name registration services and GDPR restrictions. LegitScript recommends underwriters take a closer look at accounts associated with websites that appear poorly constructed but have significant transaction volume.
LegitScript's merchant monitoring services can help identify kratom merchants and keep them off your platform. LegitScript combines technology with human expertise to proactively monitor portfolios for problematic merchants. We alert payment facilitators if their merchants are offering unapproved products such as kratom or are engaging in transaction laundering to process payment for violative products or services. Additionally, we monitor more than 500,000 merchants with a comprehensive database of known bad actors.
Contact us to learn more about our merchant monitoring offerings.